Pisa is one of the most beautiful Italian cities of art, as well as known throughout the world for its famous bell tower.
In fact, one of the most beautiful and appreciated points of this city is certainly Piazza dei Miracoli, where are the 4 most famous monuments of Pisa: the Cathedral, the Baptistery, the Cemetery and the Bell Tower or Leaning Tower.
The Cathedral was founded in 1064, its Romanesque style merges with the classical one, with the Lombard-Emilian, the Byzantine and also with the Islamic. From this it is clear how many history it collects, also linked to the renovations that took place over time. Inside it is covered in black and white marble with a coffered golden ceiling and has a splendid mosaic in the apsidal part.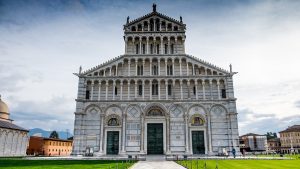 In front of the entrance to the Cathedral is the Baptistery, originally Romanesque, like the Cathedral, and later transformed into a Gothic style by Nicola Pisano. It is a structure rich in symbolism and all the elements are studied, the 12 columns, the 8-sided baptismal font and the triconic dome.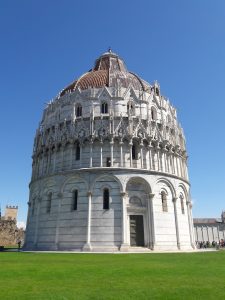 Also part of the square is the Monumental Cemetery, leaning against the walls. During the Second World War a fire caused many and serious damage to the frescoes. Inside there are the ancient sarcophagi of noble Pisans.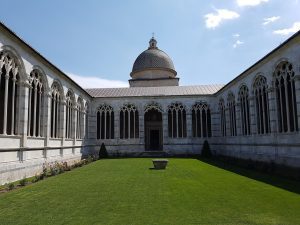 The last element to complete the square is the bell tower, known as the "Leaning Tower". Before the end of its construction, in 1300, it had already begun to incline because of the sandy soil.
His style is in line with that of the Cathedral, six of the eight floors are surrounded by loggias and arches.
Near Piazza del Duomo, is Piazza dei Cavalieri, in the Middle Ages it was the center of civil power in the city of Pisa and in the sixteenth century it became the seat of the Order of the Knights of Santo Stefano. Today it is a cultural and study center for the presence of the headquarters of the Scuola Normale di Pisa.
Walking along the Lungarno, it is possible to visit the small Gothic church of Santa Maria della Spina, named for the presence of a thorn which is said to have been part of the crown of Jesus during the crucifixion and brought here during the 1300s.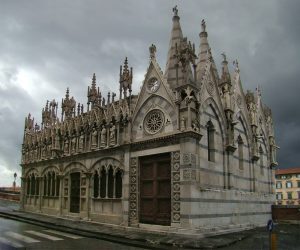 Tango7174, Toscana Pisa11 tango7174, CC BY-SA 4.0
Built in these years has undergone several interventions due to the structural failures due to the terrain and the proximity to the river. At the end of 1800 it was even dismantled and moved a few meters; unfortunately some elements were lost during the movement and some statues were replaced.
However, it is an excellent example of Pisan Gothic and creates a beautiful view of the Arno.